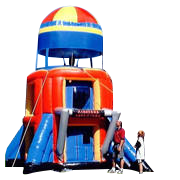 Airborne Adventure
Actual Size: 14' L x 14' W x 22' H




Airborne Adventure
Our Airborne Adventure is a one-of-a-kind inflatable attraction that allows your guests and attendees to experience life in the clouds! The game has an inner capsule that can hold one adult or two children, who are then harnessed in a parachute. A flick of the switch sends the adventurous player high into the air, almost 20 feet above the ground, for a bird's eye view of the entire event or party! Once the blower is turned off, the participant is gently lowered back to Earth for a safe and soft landing. Its rocket ship-like shape and bright red, blue, yellow and green theme will attract guests from far and wide looking for an adventurous ride!

Size is 14'L x 14'W x 22'H.

$350 for 2 hours $125 per hour after.