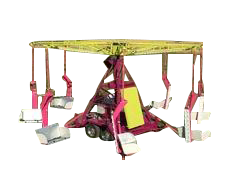 Ballistic Swing




Please call 478-254-6079 to reserve this item.

Ballistic Swing Ride Rental
Our newest Carnival Swing can hold more riders of a traditional swing ride! 16 riders at a time allows for massive throuput! Having a ride like the Ballistic Swing at your carnival is a very good idea because you can get everyone through very quickly. Let everyone have a turn at your next event!
The Ballistic Swing Ride is super fast and riders get almost completely horizontal as they swing around. It can also hold kids and adults. This is a heavy duty, carnival style swing ride.