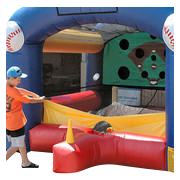 Baseball Challenge
Actual Size: 10' W x 10' D x 8' H





Please call 478-254-6079 to reserve this item.

Baseball Challenge
Our Baseball Challenge floats a ball in the air while batters take a swing of the bat. This is not the batting cages, sending you a ball at 75mph, this just floats it right in front of you. In the backdrop are outs, hits, and homeruns to make it a challenge. Includes bat and balls.

Size is 10' W x 10' D x 8' H.