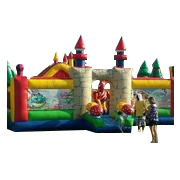 Candyland Village
Actual Size: 30' W x 29.4' L x 15.2' H





Please call 478-254-6079 to reserve this item.

Candyland Village
Gobble up the fun in this Candyland Village. Have the kids play in the gingerbread house jump or play on the inflatable candy pop ups. Maybe they want to travel down the 8ft candy slide or just run around and under the slide. Kids will enjoy this big candy treat with so many things to do. Great for ages 9yrs and under.
Size is 30' W x 29.4' L x 15.2' H.