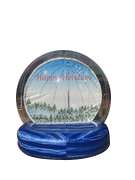 Human Snow Globe
Actual Size: 15'L x 15'W x 15'H





Please call 478-254-6079 to reserve this item.

Human Snow Globe
Enter The Human Snow Globe and enjoy the unique experience of being transported into a winter wonderland. Great for holiday photos or events! Keep in mind this is a specialty item, not a bounce house.
Size is L:15' x W:15' x H:15'

$500 for 4 hours and $150 per hour after