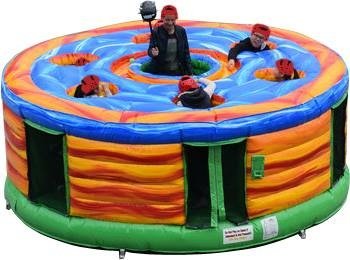 Human Whack A Mole




Please call 478-254-6079 to reserve this item.

Remember the game "Whack A Mole"? Imagine renting a giant inflatable version of Human Whack-a-Mole from Mr. Moonwalk Events.
Here is the object of this unique interactive game: Six players pop up and down from their Mole Holes trying to grab the plastic balls surrounding the center player. The center player is the "The Protector". The protector guards the balls with an Inflatable Hammer. Don't get whacked by the inflatable hammer as you collect those colorful balls. The Mole with the most plastic balls in their mesh pouch at the end WINS! Now the winner takes a turn at Whacking those very active Moles.
Imagine how fun it would be to Whack a friend, family member, neighbor or even a co-worker. Whack-A-Mole is incredibly fun to play and hilarious to watch too!
A couple of great ideas for renting an inflatable Human Whack-A-Mole…
Neighborhood HOA Events or Block Parties
School PTA Festival, Field Day or Student Celebration Events
Birthday Parties, Graduation Celebrations or Summer Camps
Church Youth Groups, Vacation Bible School or Family Fun Days
Corporate Team Building, Employee Appreciation or Company Picnics
** We know that safety is important to you. No worries, Safety is always our top priority too. Headgear is provided for all Moles & the Hammer is filled with air. Astro Jump of Atlanta = Good, Clean, Safe Fun for All **