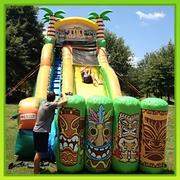 19 Ft Tiki Island Slide

Actual Size: 36' L x 14' W x 19' H

Please call 478-254-6079 to reserve this item.


Tiki Island Slide

Our Tiki Island Slide is an amazing luau themed water slide featuring a super fast sliding surface and easy to climb steps perfect for kids and adults. This 19 foot tall water slide has a bumpy or wavy slide surface giving the slider a much better ride similar to water slides at a water park and will be a hit at your next party or event. This water slide has a really shallow splash pool at the bottom so the water stays very clean while in use.


Size is 36' L x 14' W x 19' H.