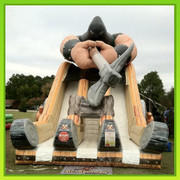 28 Ft Axeman Slide

Actual Size: 22.6' W x 30' H

Please call 478-254-6079 to reserve this item.


Axeman Slide

Off with their heads! This well-executed (pardon the pun) medieval axe man is ready for you! Enter the Chopping Log and set your head in place for a photo opportunity like no other before climbing the AXEMAN's giant "chopping cart" and sliding down to safety. Come join the fun... The AXEMAN waits for thee!

Size is 22.6' W x 30' H.