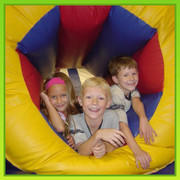 Obstacle Course

Actual Size: 52' long

Please call 478-254-6079 to reserve this item.


Obstacle Course

Our Obstacle Course offers a ton of fun and a great way to satisfy your child's competitive nature. Kids can race each other or just run wild through all the pop-ups, side bars, tunnels, rock walls and slides.


Size is 52' long.