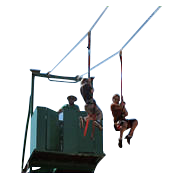 Mobile Zip Line
Rent GREEN MACHINE Mobile Zip Line Today!
Our GREEN MACHINE mobile Zip Line in Georgia is an adjustable system that is over 30' tall with a range between 100 to 300 feet long- that's a football field! Our Zip Line is fun whether you are 5 or 75 & supports high volume traffic.
Our GREEN MACHINE mobile Zip Line offers a coil braking system that delivers a smooth stop with no jerking motion. Our GREEN MACHINE mobile Zip Line also uses the safest decelerator on the market, the Decelinator™, a proprietary device that fully lowers riders safely to the ground. The hydraulically activated Decelinator™ raises up in the air, keeping participants safely off the ground while descending to the end of the ride. Once the trolley eases into a "Power Pack", the participant then is hydraulically lowered to the ground. The Decelinator™ also controls tower exit doors, preventing them from opening until the zip line is ready for operation.
Great for festivals, fairs, family reunions, corporate events, zoos, church functions and where ever interactive outdoor adventure is desired! This is the Largest Mobile Zip Line in the southeastern United States that everyone is so excited and talking about in Atlanta Ga, Macon Ga, Columbus GA, Athens Ga, even over to Savannah GA, Brunswick Ga, Jekyll Island GA, St. Simons GA, Jacksonville FL, Orlando FL, Tallahassee FL, Tampa FL, Charleston SC, Charlotte NC, BIrmingham AL, Montgomery AL, Mobile AL
just to name a few! Our zip line rental is bound to be a hit at your next event! Call TODAY to get a price quote for your next event!
From Set Up to Break Down, we handle all necessary logistics to make sure EVERYONE has a memorable experience on our Mobile Zip Line. Our professionally trained staff will interact, encourage and have fun with all of the patrons at your event. 35lbs to 250lbs weight restrictions.